BREAKING: Massive 250,000 square foot Jensen-Byrd District promises adaptive reuse, space for tech/biotech companies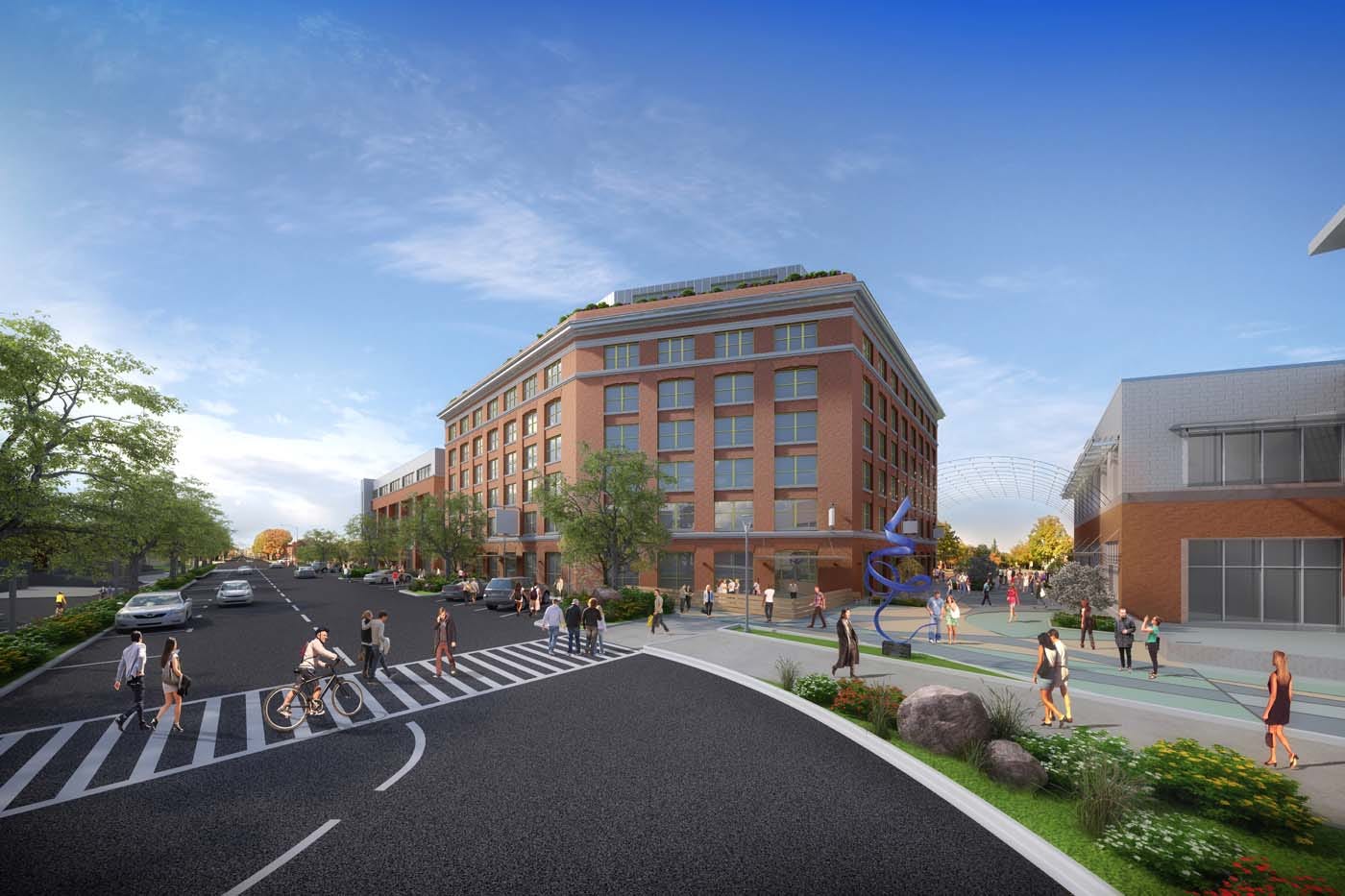 If everything goes as planned, by 2018, the Jensen-Byrd Building in Spokane's University District will grow into a mixed-use area of its own, featuring tech/biotech offices, retail, retaurants, and an athletic center over 250,000 square feet. (PHOTO: jensenbyrd.com)   Earlier this year, WSU Spokane awarded a contract for remodel and reuse of the Jensen-Byrd Building to a partnership of Seattle developer Wally Trace and the local office of design-build energy efficiency firm McKinstry. We knew that the partners had significant plans for the site, but now we're getting our first look at the project. And it's absolutely spectacular. Not content to simply remodel the historic Jensen-Byrd warehouse, JB Development will develop a massive, 250,000 square foot adaptive reuse of the main building and the Pacific Produce Building and construct a new 442-space parking garage, a 50,000 square foot retail and fitness center, and an 84,000 square foot mixed-use tech/biotech office building. The result will be what they are calling the Jensen-Byrd District. Aimed at tech and biotech companies, the buildings will feature the large floor plates, modern data connections, and retail amenities that large companies expect, but which don't exist at this point in our city. In other words, if marketed correctly, these two buildings could help Spokane land a major tech or biotech tenant. It's a dream that's been building for a while, with significant investment in the University District (including the Pedestrian Bridge, expected to be complete in 2018) in pursuit of attracting private companies. With the right targeted action and marketing, now we have a specific site that could accommodate those demanding tenants. Jump after the break for more discussion and renderings. [gallery ids="1210,1209,1208,1207,1206" type="slideshow"]
 (PHOTOS: jensenbyrd.com)
Jensen-Byrd Building. At 114,000 square feet, this comprises the bulk of the project. Construction will start in earnest later this year on a full interior remodel and exterior refurbishment. At completion, the building will include 30,000 square feet of retail space, 70,000 square feet of Class A office space, and a 14,000 square foot roof-top conference center, which is a new concept for Spokane.
Pacific Produce Building. This modest building of 8,900 square feet will be remodeled to house a local restaurant or other retail space. This is a uniquely-shaped triangular building, which allows for some unique opportunities for creative reuse.
Fitness Center. Given the University District's growing student population, JB Development will construct a 47,500 square foot fitness center, housing additional retail and connected to a public parking garage for 442 cars. The parking garage will help consolidate parking from other areas of the district, allowing for further infill on other sites.
Office Building. This new-construction, 84,000 square foot building will house primarily Class A office space for use by a tech/biotech company, medical firm, or other professional firm. It will feature similarly-large floor plates, all of the modern amenities, and a nice public plaza between it and the Jensen-Byrd Building.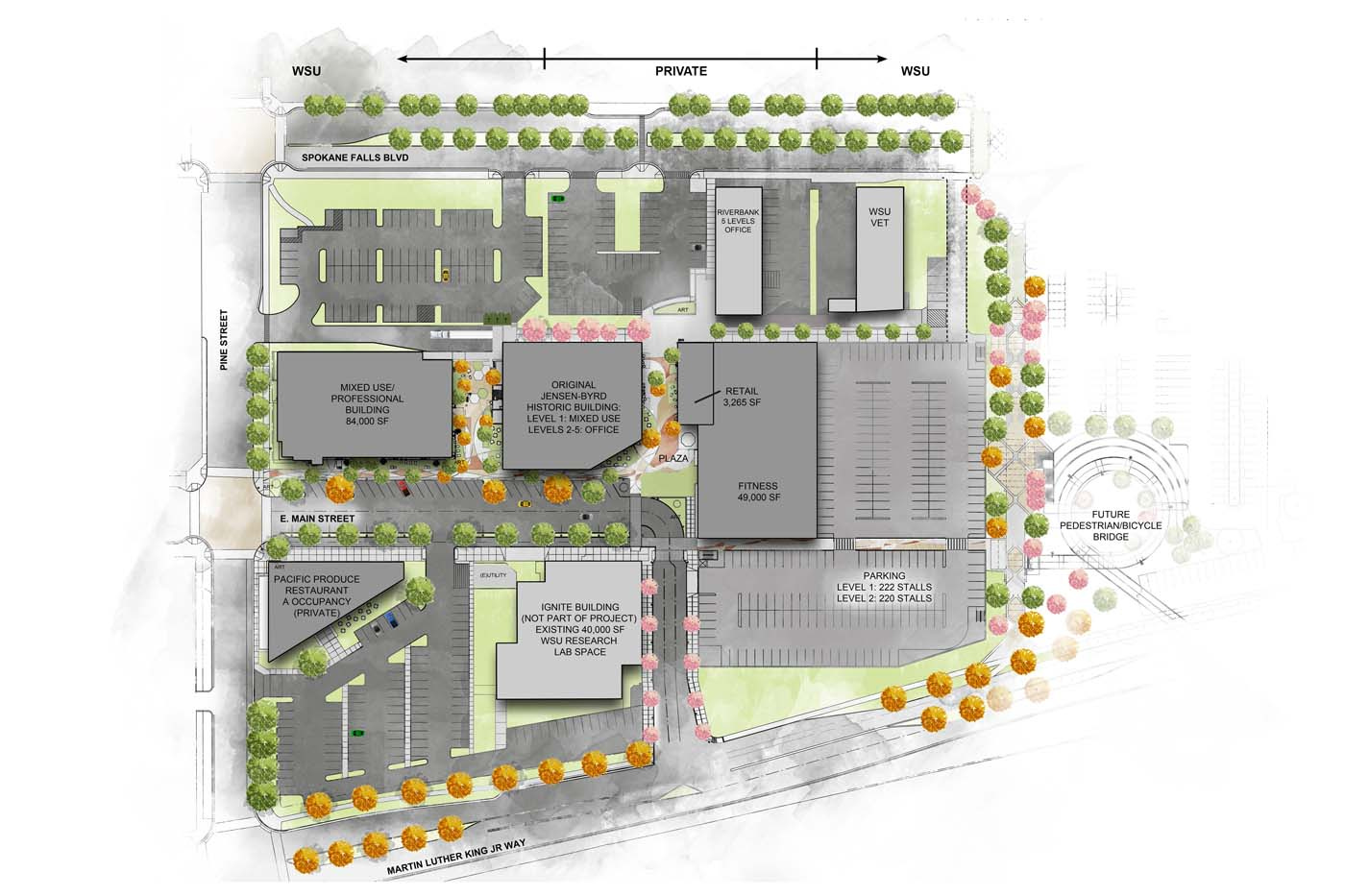 Here's the full site plan for the Jensen-Byrd Building. Note the connection to the Pedestrian/Bicycle Bridge and the large scope and scale of the project. The Jensen-Byrd Building itself is just one small piece. (PHOTO: jensenbyrd.com)
In sum, we could not be more excited to see the Jensen-Byrd District come to fruition, and we hope to see more from Wally Trace and McKinstry in the future. The entire project should be complete by 2018, in time to sync nicely with the University District Pedestrian Bridge and other enhancements to the area. Stay tuned.
--
SHARE YOUR THOUGHTS: What do you think of the new plan for the Jensen-Byrd Building and the Jensen-Byrd District? Are you excited for the 250,000 square foot development? What would you do to improve the plan or what would you like to see there? Share your thoughts on Facebook, on Twitter, or in the comments below. We love to hear from you.